Song: Hue Fantasie
Composed By: Georges Hue
Performed By: Dorothea Belanger
Accompanied By: Mark Winkler
Date Recorded: 1982
Accompanying A Friend
Dorothea Belanger the most fabulous friend one could ever hope for. She has been with me during some tough times, and no matter how long we are apart, when we do meet up again it's like we never were separated. Her husband is also named Mark and the running gag throughout the years is that he is Mark 1.0 and I am Mark 1.1 (I used to be Mark 1.5, but she recently upgraded me to 1.1).
I recently discovered this old cassette and transferred it digitally. It is a recording made in 1982 of Dorothea playing the flute for Kenora's Centennial.
She played brilliantly! And I supported her the only way I knew how. I accompanied her on the piano. We worked really hard rehearsing this and, believe me, Dorothea was a taskmaster. Mediocrity had no place in her life. Which is one of the reasons why I learned to respect and love her from an early age.
Be warned: this is a 7-minute classical piece, not Bon Jovi.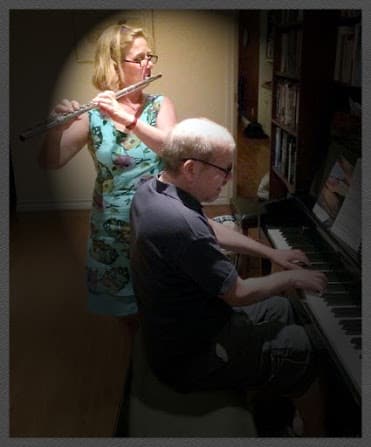 Fast Forward
Thirty-three years later Dorothea and I tried our hands at it one more time. We weren't as polished as in 1982, but much more content and at peace with ourselves … a trade-off that I am fine with.