The Jack Morton Company
I never thought I would ever work in a corporate environment, so a side trip into corporate America was the furthest thing from my mind. But a parent of one of my Greenwich Country Day students owned a production company in New York City and offered me an opportunity to try my abilities in the creative department. I accepted and slowly worked my way up from creative assistant to associate creative director. But after a time, I became frustrated with the slow pace of my career advancement. So I applied for the position of Creative Director at another company…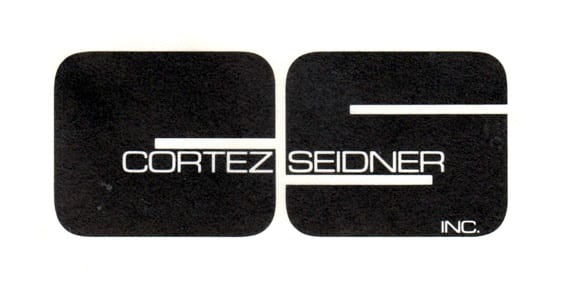 Cortez/Seidner, Inc.
At Cortez/Seidner, I not only flourished as a lead Creative Director but also was able to achieve a level of compensation that allowed me a  comfortable lifestyle.
The video above is from the launch of the pharmaceutical named Vantin, developed by The Upjohn Company. The total audience was nearly four thousand sales reps. We motivated and trained them so that they would be ready to detail this product to physicians all across the country. This video (which is 27 years old – so please excuse the quality) is a highlight reel of the entire event. Everything here was created, built and executed from scratch by Cortez/Seidner. The launch won a gold medal at the New York Film and TV Awards.
Picture taken at the "1988 New York Film and TV Awards" in New York City on a cold wintry night. I won a gold award for the creative direction of a live production for IBM's Circle of Excellence Achievers. The piece featured my voice teacher Louis Quilico his wife, Lena and their son (also a world-renowned singer) Gino Quilico. I chose them as they were real examples of achieving excellence in their lives. Above is the complete audio of this media piece, written by Trebbe Johnson (next to me in the photo), and performed live by the Quilico family.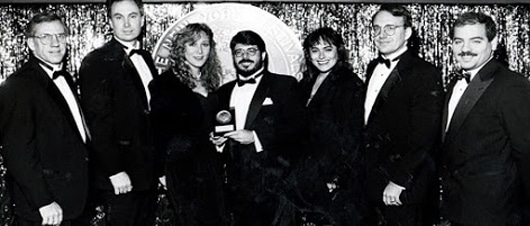 This picture was taken at the "1992 New York Film and TV Awards" in New York City. While working at Cortez/Seidner Inc, I won a gold award as creative director for the product launch of Valtrex from The Upjohn Company. I would have preferred to have been at home that night instead of here wearing a tuxedo. Want to see what I look like when I force a smile? This is it!
Eventually, Cortez/Seidner was acquired by…

The Caribiner Group
I worked freelance for a time after the Cortez/Seidner acquisition but eventually wound up at the Caribiner Group as VP of Creative. It was a public company and my impression was that the organization was much more interested in its stock price than in the creative quality of its products. As luck would have it, Caribiner was bought out by, who would have thought…
Me in Hawaii after winning a performance award for the company I worked for in 2000. To my left is Ray Simon, Senior Vice President of Caribiner International. To my right is Josh McCall President of The Jack Morton Company, the company that bought out Caribiner International.
Jack Morton, Part Deux
Jack Morton, the place I originally left because they wouldn't make me a Creative Director. When I returned it was as Senior Vice-President, Creative Director! What a sweet, sweet way to close the circle. Eventually, though, I got disillusioned by the ethics of the enterprise and just plain tired of the corporate world in general. I'd spent a significant 15 years of my life there but left me wanting in terms of personal satisfaction. So I decided to end this chapter of my life and say goodbye to corporate America.